"Eh how come there's no Rag and Flag this year leh…" asked 192849 freshmen.
A prominent feature of NUS Freshman Orientation Programme, Rag & Flag is typically one of the summer highlights before the university grind kicks in. It is an annual charity project to raise donations for the Community Chest. After the wonderful turnout for KRaSHeares Rag last year, everyone was looking forward to another summer of fun and memories.
Unfortunately, "the Rona" resulted in Rag and Flag being shifted online this year, with a "talent show" format where NUS students and staff were invited to showcase their werl-class skills and abilities. The event was streamed on 8th August, when audiences tuned in to watch the acts and donate to beneficiaries.
With the transition to an online show, the participating bodies had the options of either fielding acts for the show or pulling out of the event altogether. Not one to give up (because we ain't our Heng Mui Keng neighbours...hearsay their pull-out game strong),
KR fielded 3 acts because we believe in doing our part to contribute to the wider community (shoutout to all the KResidents who were willing to participate! The real MVPs). Our line-up included E block's resident opera singer, Dr Matthew Chua, Celeste Ow and last but definitely not least, KRemix's most eligible bachelor, Alex...better known as...
We were lucky enough to snag a quick ~zoom~ interview with 2 of our acts and ask them how it felt performing for a benevolent cause!
Dr Matthew Chua
Q: What made you decide to perform for NUSSU talent show?
Dr Chua: I think someone asked me to perform... probably Dr Ng, and I volunteered because at that time there was no one who wanted to perform. Anyway, it's for a good cause!
Q: What song(s) did you perform?
Dr Chua: I sang one song, which was "You Raise Me Up". As there were other performances lined up from other halls and faculties, it was limited to a 2-hour show so there was no time to include more songs.
Q: How was performing under the COVID-19 restrictions?
Dr Chua: We had a soundcheck at PGP a few days before the actual filming for the show. It was quite okay performing under COVID restrictions actually. I prefer singing to an empty hall than to a large crowd of people because I don't like people to face me. It felt quite natural for me, I just faced the camera and sang haha. I didn't really feel anything in particular, I just wanted to sing and get done with it! Especially since I perform quite often, so it's more of a "bread and butter" kind of thing for me.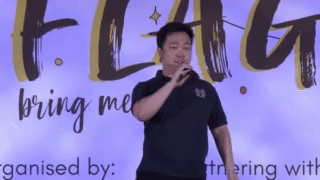 Q: How was the preparation like (under COVID conditions)
Dr Chua: To be honest, I didn't really have the time or opportunity to practice much for the performance. If you watch the video, you can actually hear quite a few off-pitch parts if you listen closely. But because it was circuit breaker period I had nowhere to practice or train for it.
(but he had time to make a baby during circuit breaker)
Check out Dr Chua's amazing performance here! Don't forget to Like it!
Whothekyng (#balibod2021)
Q: What made you decide to perform for NUSSU talent show?
Whothekyng: KRemix is not a very established culture group in KR as it's relatively new, so I wanted to increase our presence and outreach. I was very involved in KRemix last year so I wanted to do something for it this year.
Q: What song(s) did you perform?
Whothekyng: It was a 20 minute open format set, with some Top 40, R&B tunes. It was pretty free and easy (because he damn zai at DJ-ing)
Q: How was performing under the COVID-19 restrictions?
Whothekyng: The hard part of the preparation was coming back to school and getting approval to use the KRemix equipment. I have the DJ set at home but it isn't exactly the same so after not using it for a while, I felt quite out of touch with it. So I needed a lot more time to practise and get it right. For the performance aspect it was a bit awkward at the beginning performing to no one. Typically I'm used to playing in clubs where there's a lot of people and energy. It actually took me back to the start of my DJ career, especially during opening when there's usually no one there yet…. But yeah I mean it was awkward at the start but after awhile you get into it and you just do what you gotta do then it's fine.
(throwback to Alex's glory days @ Zouk, w/ 2 girls simping for him in the crowd!)
Q: Do you think there's anything that can be improved on the organisers' end?
Whothekyng: They did pretty well and everything was run quite smoothly. When we arrived, we just needed to go to the waiting room, the set-up was quite fast. Once I finished performing, I just needed to pack up and go. Hmmm, I guess one hiccup on my end was that I removed KRemix equipment from the room without telling kel goh LOL
For any enquiries regarding his availability, contact @alxndrbrd on Telegram. (or if shy can write in to KReporters IG page)
Once again, a very big thank you to the 3 performers from KR! Even though it seemed that the coronavirus situation was going to rain on this year's Rag and Flag, the show must go on. While it may not be the Rag and Flag day we typically know, it was nonetheless a fulfilling and meaningful experience. After all, it's about the spirit of giving and community! Here's to hoping next year's Rag and Flag will be great for KR once again. #MakeKRagGreatAgain